Advertisements
Advertisements
Fnaf 1
Game Five nights at Freddy's – Extreme horror and thrill series game. Fnaf 1 is a very mind-boggling game and not for the faint of heart. The story begins at Freddy Fazbear's Pizza, where there are 3 special bear bones that always attract the kids. But at night, when you take care of the store, that's when they can move. What will happen next? Let's play the story!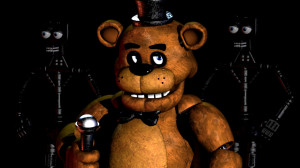 How to play Five nights at Freddy's : Your mission is to survive until morning. Controls the sound system and camera to distract the bears. Balance the power supply for cameras and security gates. Each time switching from one camera to another will consume a lot of power. So be cautious and minimize the possible moves.
What are you waiting for. Let's get started with this awesome game. Wishing you always have a great time !