Advertisements
Advertisements
FNAF World
The story of the FNAF World tells the teddy bear Freddy and friends with a noble mission is to rescue the good is the evil deeds are gradually alienated and transformed. This world was once a paradise but things are changing day by day. And your mission is to save it.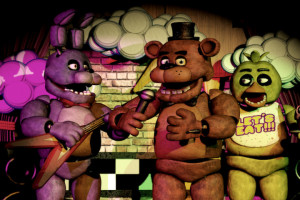 Here are some basic skills in FNAF World for beginners to know:
-Birthday: Increases attack, defense and speed. Very useful in the early stages of the game.
-Waterhose: Immediately kill enemies under 30% of their health.
-Giftboxes: Place a gift at the feet of each teammate, this gift box will automatically revive the dead teammate alive.
-Hot Cheese: Place a piece of hot cheese on the ground, dealing damage to all enemies in a continuous time.
-Unscrew: This skill has a 30% chance of defeating an enemy instantly.
-Esc Key: Skill has a lowering rate for all enemies, but the rate is lower than the Unscrew.
-Mystery Box: Randomly changes all team members to another group.
-Prize Ball: Performs any random attack. Jumpscare: Stuns the enemy for a few seconds, effectively decreasing the boss.
Wishing you always have a great time!